150kg/h output automatic potato chips production line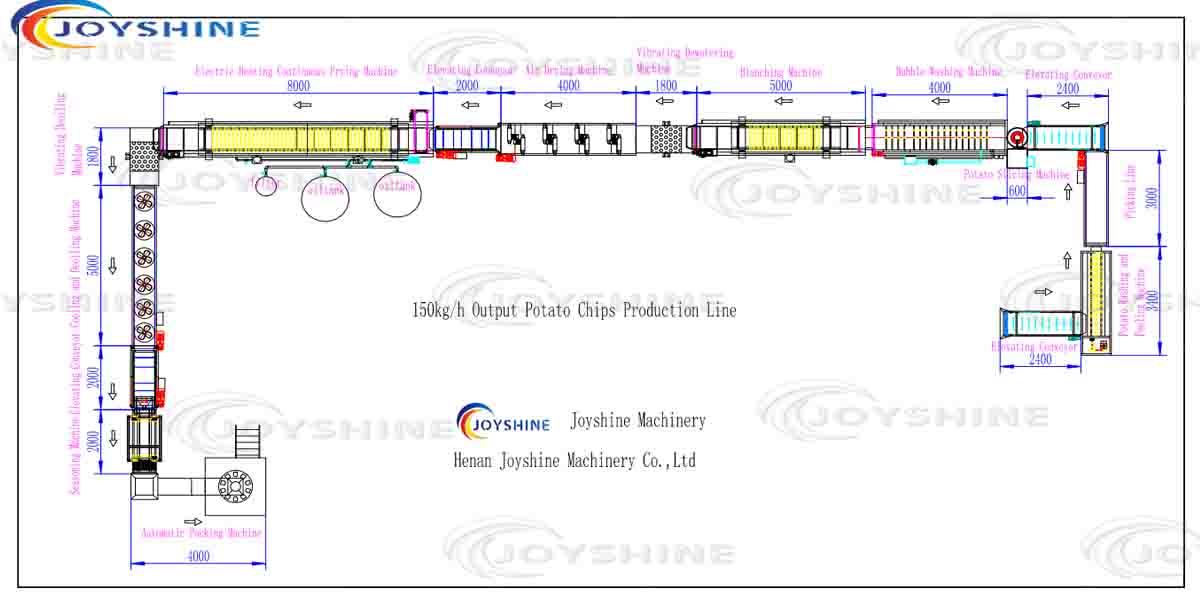 Brief introduction of 150kg/h chips line for our Sri Lanka
The food production line can be used for potatoes, sweet potato, plantain or bananas. The final products can be potato chips, banana chips. Our sale Arthur made the best solution for our mexican customer who has small scale chips plant. He asked all the questions about all the needs from his client. Finally, he confirmed the details such as heating method for potato chips frying machine, site problem, budget, the capacity of chips line, the labor cost comparison of semi-automatic one and fully automatic chip line. Finally, they make a deal on April 4th, 2021.
Work flow
Fresh potato elevator → Potato washing and peeling machine → Unqualified potato picking line → Potato cutter (For French fries cutting/ For potato chips slicing) → Fries Pre-washing elevator with water tank → Unqualified fries picking line → Potato chips and French fries washing machine → Blanching machine →Vibration de-water machine → Continuous frying machine → Vibrating de-oil machine → Automatic weighing and packaging machine
Why do you have to choose those potato processing machine as a part of chips line?
- Potato elevator:
Used to transfer the fresh potatoes into the cleaning and peeling machine in large quantity. This machine is optional for some chips making factory.
- Clearing and peeling machine:
Used to wash the fresh potatoes and peel the skin automatically without damage.
- Potato Cutting machine:
Cut the potatoes into chips, sticks and wave chips by changing different knives. The thickness of the chips or sticks is adjustable by your needs.
- Chips blanching machine:
Used to prepare for frying chips in order to make the color taste better and make the chips crispy.
- Vibration dewatering machine:
Used to remove the extra water on the surface of the chips or french freis by high-frequency vibration after blanching.
- Air Blowing de-watering machine:
Used to reduce the water contained in the chips, thus it will be easier to be fried.
- Frying machine:
For the potato chips need to be totally fried to make it crisper if produce frozen french fries. only need to be half fried.
- Air blowing de-oiling machine:
Totally remove the oil on the surface of the chips and french fries.
- Flavoring machine:
It is to mix the flavor to the surface of the chips to get different taste chips to cover more consumers.
- Chips and french fries packing machine:
Used to pack the final products. Our fully automatic packing machine can feed, elevate, weigh and pack the potato chips automatically so as to reduce labor cost.
The details of Main food machine for 150kg/h potato chips line
| | | | |
| --- | --- | --- | --- |
| Mahcine | Power | Diamentors | Capacity |
| PVC Elevator | 0.55kw/380v/50Hz | 2400 x 700 x 1600mm | 150kg/h |
| Washing and peeling machine | 4.37kw/380v/50Hz | 3400 x 1000 x 1400mm | 150kg/h |
| Picking machine | 0.75kw/380v/50Hz | 3000 x 700 x 900mm | 150kg/h |
| Mesh belt elevator | 0.75kw/380v/50Hz | 2400 x 700 x 1600mm | 150kg/h |
| Slicing machine | 2.2kw/380v/50Hz | 950 x 800 x 1600mm | 150kg/h |
| Bubble washing machine | 6.6kw/380v/50Hz | 4000 x 1200 x 1300mm | 150kg/h |
| Blanching machine | 100kw/380v/50Hz | 5000 x 1200 x 1300mm | 150kg/h |
| Vibrating dehydrator | 0.5kw/380v/50Hz | 1800 x 1000 x 1300mm | 150kg/h |
| Air cooling machine | 7.5kw/380v/50Hz | 4000 x 1000 x 1600mm | 150kg/h |
| Mesh belt elevator | 0.75kw/380v/50Hz | 2000 x 800 x 1300mm | 150kg/h |
| Continuous fryer with electricity | 200kw/380v/50Hz | 8000 x 1200 x 2400mm | 150kg/h |
| Vibrating dehydrator | 0.5kw/380v/50Hz | 1800 x 1000 x 1300mm | 150kg/h |
| Air drying machine | 8kw/380v/50Hz | 6000 x 1000 x 1600mm | 150kg/h |
| Mesh belt elevator | 0.75kw/380v/50Hz | 2000 x 800 x 1300mm | 150kg/h |
| Seasoning machine | 1.5kw/380v/50Hz | 2000 x 700 x 1600mm | 150kg/h |
| Packaging machine with 10 heads | 6kw/380v/50hz | 4000 x 2700 x 2600mm | 150kg/h |